Great Plains Tribal Water Alliance Board meets with NC CASC members, others at CU Boulder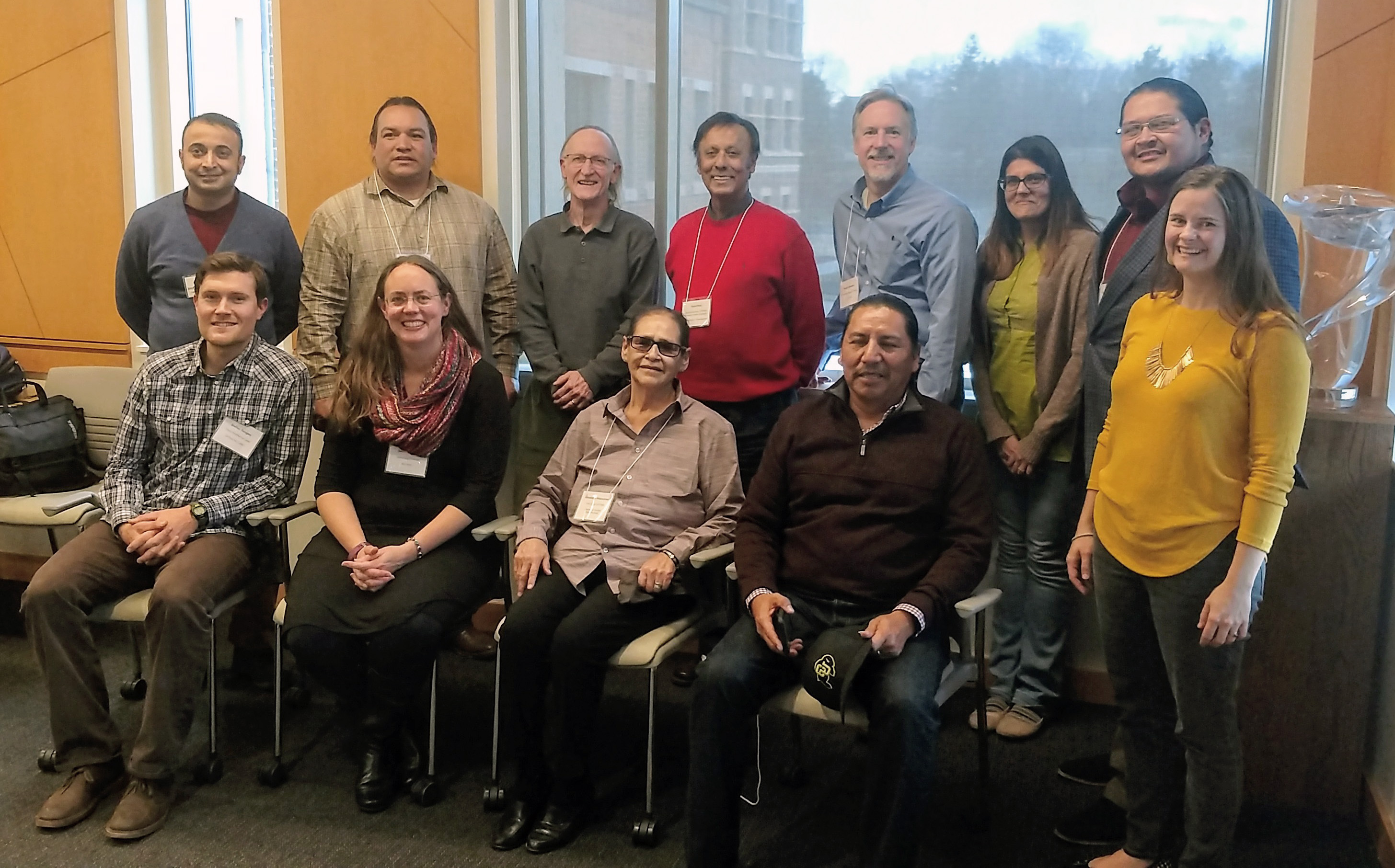 On December 19, 2018, The Great Plains Tribal Water Alliance Board traveled to Boulder to discuss opportunities for engagement

with other CU and Boulder-area groups interested in working with the GPTWA, NC CASC, and indigenous communities. The face-to-face meeting at CU was a great opportunity to generate ideas about what the GPTWA and NC CASC want from their collaboration. Discussions centered around how to Identify information needs and current actions and projects for each tribe in the region to inform future outreach.
Attendees included: Doug Crow Ghost, Chairman, GPTWA, Standing Rock Sioux Tribe; Elizabeth Wakeman, Vice Chairman, GPTWA, Flandreau Santee Sioux Tribe; Kyle Whyte, Treasurer, GPTWA, Oglala Sioux Tribe; Syed Huq, Board Member, GPTWA, Rosebud Sioux Tribe; Reinique Beck, Louis Berger Environmental Scientist; Chance Knutson, Louis Berger Intern; Logan Gayton, Louis Berger Intern; Robin O'Malley, USGS Director, NC CASC; Jennifer Balch, University Director, NC CASC; Aparna Bamzai-Dodson, USGS Deputy Director, NC CASC; Brian Johnson, University Deputy Director,  NC CASC; James Rattling Leaf Sr., NC CASC co-PI representing the GPTWA; Stefan Tangen, GPTWA & NCCASC Tribal Resilience Liaison; Brian Miller, USGS Biologist; Heather Yocum, Stakeholder & Engagement Lead, NC CASC; Imtiaz Rangwala, Climate Science Lead, NC CASC; Jenny Briggs, CU Office of Outreach & Engagement; Susan Sullivan, Director of Diversity & Inclusion, CIRES; Greg Johnson, Interim Director, Center for Native American and Indigenous Studies, CU Boulder; Cibonet Salazar, Program Coordinator, CNAIS; Georgia Madrid, NOAA Research Equal Employment Office/Diversity Program Office; Britt Parker, NOAA NIDIS Regional Drought Info Coordinator; Heidi McCann, Knowledge Exchange Coordinator, Assoc. Scientist II/Professional Research Associate, NSIDC; Heather Lazarus, Project Scientist II, Rising Voices and NCAR; David O'Donnell, GIS Contractor, BIA; and Julie Maldonado, Associate Director for the Livelihoods Knowledge Exchange Network, & Rising Voices.
 
Back: Imtiaz Rangwala, Doug Crow Ghost, Robin O'Malley, Syed Huq, Brian Johnson, Aparna Bamzai-Dodson, Kyle Whyte
Front: Stefan Tangen, Jennifer Balch, Elizabeth Wakeman, James Rattling Leaf, Heather Yocum